On July 11th we got a new puppy. I had been wanting a pure lab puppy for three years but they cost so much money was not able to get one. My parents said if I could find a puppy at a low price, a good breed mix, and we all liked it we could get one. I was searching several hundred puppies a day on Craigslist. One night at about eight I had been looking at so many puppies which made me want one even more. I got onto Craigslist and saw that an hour before someone had posted a free puppy that was eight weeks old. She was just so cute with her big floppy ears and was just the right breed mix, lab/fox terrier. I showed my dad the ad and he said my mom could call to ask about the puppy. The next evening my dad, mom, Sarah, Caroline, and I were on our way to get the puppy which we were naming Penelope or Penny for short.
She is now five months old and weighs 37 pounds. She looks and acts mostly fox terrier so I call her a giant fox terrier. She loves people, she is a little over protective of me, she is brilliant, and learns new commands quickly. Since she is so smart she can be stubborn. She loves to play, she is sweet, funny, she loves fall, and will lay outside on the porch swing for hours at a time. She is just a wonderful puppy!
Penny loves toys. We got her her first stuffed toy a few days ago, a stuffed chicken, which she loves. If she wants to play, she will go get her chicken and hold it in her mouth, squeaking it and looking up at you until you will play tug of war or throw it for her.
She also loves her walks. I usually take her on one every night and when she sees I have my walking shoes on and have her leash she will get all excited and try to pull me to the gate. If I only have my walking shoes on or only have the leash she won't get excited since she knows we aren't going on a walk. She learns quickly.
I use the "It's Me Or The Dog" training method which I think is by far the best method. I have watched most of her shows and have seen a lot of useful tips. I have not read her book but I want to get it soon.
I will continue to post stories, pictures, and videos of Penny so you can all get to know her.
Here is a picture of Penny I just took the other day. She had just woken up and I let her outside to lie on her swing.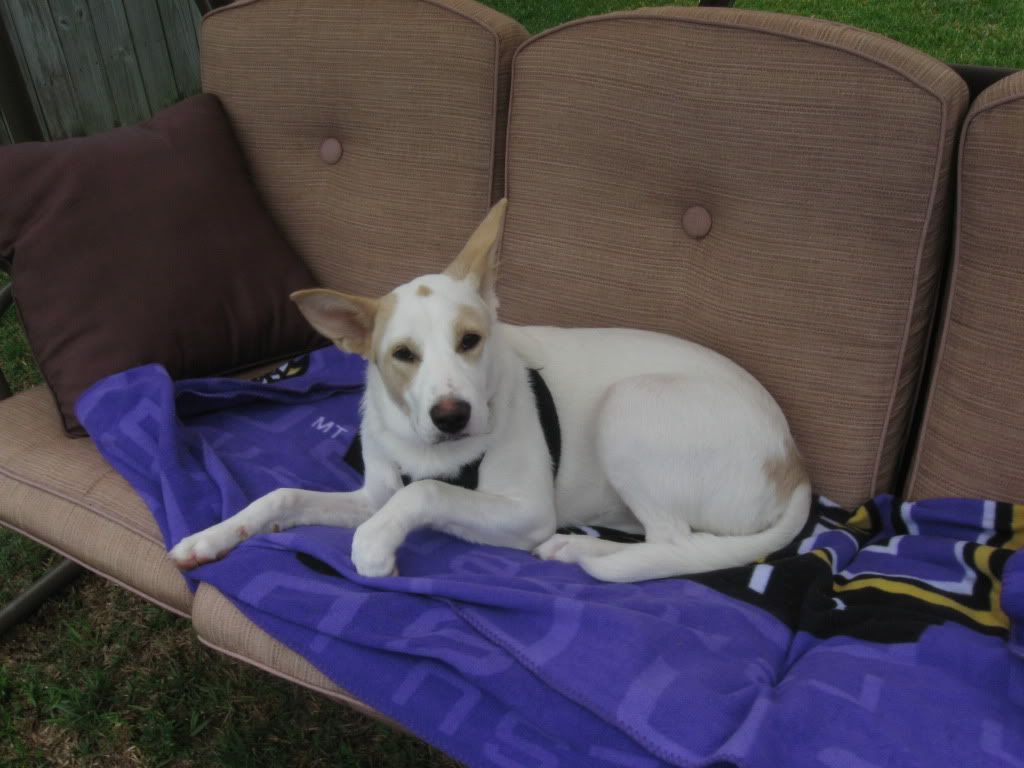 Here is a picture of her the day we got her.